HighTech Garage Doors - Garage Door Repair Seattle, WA -

206-855-6108
A garage door repair or adjustment should be handled by the experts of HighTech Garage Doors whenever a problem arises. Small issues have the potential to escalate into major issues if you are not paying attention. Doors that do not open properly or that make certain noises should trigger an immediate call to HighTech Garage Doors and its service professionals around the Seattle, WA. Handling these repairs on your own may not be in your best interest and could create more problems that they solve, particularly if you are not specifically trained or qualified for such a repair. A tiny mistake in the repair of your garage door performed by you can result in permanent damage or a higher cost with regards to a new installation and replacement of the door. It may also create a dangerous situation for you that threatens personal safety. HighTech Garage Doors professionals safely and quickly fix garage doors.
An aging garage door that has signs of wear and tear or just doesn't open and close correctly can be checked out by one of HighTech Garage Doors service professionals. Left unattended, the effects of aging can cause the garage door to eventually stop working properly. We help our area businesses and residents reduce costs and save time by providing solutions for their garage door that are effective. We can help you address your garage door issues in an effective manner.
Garage Door Inspections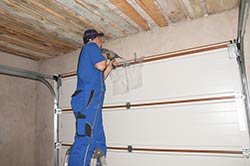 Garage doors are designed with many different moving parts. These parts work together to properly operate the garage door. At first glance, the design and workings of the garage door mechanisms appear simple. It is crucial to the safety and proper operation of your garage door to resist the temptation to fix your door by calling a seasoned HighTech Garage Doors professional to help you through a thorough inspection. The purpose of the inspection is to ensure that all parts are working as designed.
An inspection by HighTech Garage Doors entails a complete look at every aspect of the garage door and its parts. This will include a look at any remote door opener, the side tracks and its cabling, and every component and part of the door. Unusual wear and tear along with breaks and other damage will be noted to make sure that the door is safe and poses no danger.
We take in account the door's entire story. The scrutiny we use toward the door and its operating mechanisms will result in recommendations for improvements or essential repairs. We can repair or replace parts that are worn, oil to areas needing oil, tighten loose parts or adjust the tension of the door's springs. We make these adjustments to ensure that your garage door can last as long as it can and operate properly.
Damaged Doors
Your garage door can break in many different ways. This can be due to an accident, its continued use of damage from equipment. Regardless of the reason, a damaged garage door may not properly open and close; this could make your life harder and impact the safety and security of your garage and the assets it is suppose to protect.
A recognized expert in repairing garage doors that are broken, HighTech Garage Doors can provide you with a fix immediately, within an hour of your calling. Our mobile units allow us to come straight to you and provide you with the repair you need on the spot. No matter the time of day or night, we provide the round-the-clock service you require to fix your urgent problems. We can fix the door immediately and make sure you don't miss any of your important appointments. We can also deal with a malfunctioning garage door opener.
HighTech Garage Doors experts have the experience to provide you with the service needed for nearly all garage door brand. Our customers can definitely rely on our expertise to make sure that your garage door is always working as it should.
Garage Doors That Won't Track
The purpose of the garage door track is to make sure the door opens and closes as it is designed to do. When a garage door comes off its tracks, your garage door will not properly work.
It is possible for a garage door to come off Its tracks easily. This can be caused by cables breaking or failing due to their age through continuous use. Cables may also get wet or be affected by the extremes in temperature. When a cable breaks, such a break may be limited to one of the track sides, caused when the door rises and closes.
There are other reasons for a garage door to leave its tracks. An obstruction in one or both tracks can cause the door to misalign and come off track. When your garage door no longer lifts or closes properly, a professional garage door expert such as those working for HighTech Garage Doors can bring their experience to bear in order to make sure that the door is working as designed. We can quickly and efficiently put your garage door back on track.
When a garage door comes off of its tracks, a professional technician should be used to fix the problem. Treating this as a DIY project without the necessary skills and training could cause the door to become permanently inoperable or pose a threat to the safety of anyone using the door. A team of qualified professionals from HighTech Garage Doors are skilled to provide you with the appropriate solution for dealing with your door tracks in order to make the door safe and secure for your premises.